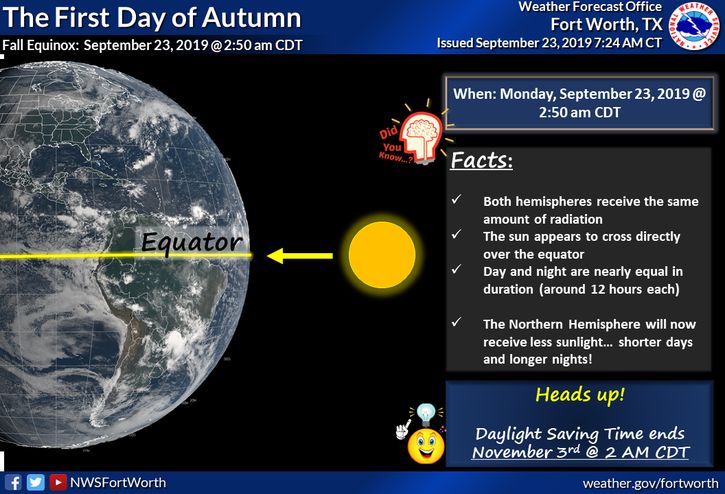 Happy First Day of Fall, y'all. No, it doesn't feel like fall quite yet, but with high temps in the low 90s instead of the high 90s and pumpkin spice everything available, we just have to go with it.
For those of you in the Winners Circle area, TVEC contractor OSMOSE will be conducting underground infrastructure inspections beginning Sept. 30.
The TVEC Board of Directors will meet at 1 p.m. tomorrow, Sept. 24 in the Athens district office.  Speaking of the board, the 2019 board election is well underway. If you missed the announcement last week, members who do not have a ballot may pick up a replacement ballot at TVEC offices. Ballots must be received in Lubbock, TX by Oct. 8 to be counted, and to get you into a drawing for one of four $500 bill credits.
In Texas electricity news, wind generation is about to surpass coal for energy production.  Wind passed nuclear generation in Texas in 2014, and at the moment Texas produces about 1/4 of the wind-generated electricity in the United States. (EIA Stats)
Speaking of underground infrastructure, give plenty of space to green electrical boxes. Kids need to know that it isn't a good idea to play on, around and especially not IN those boxes. Here is a cautionary tale that shows the dangers (video).
Weather Outlook
Your A/C will be working a bit less this week, but it still has to make up 12-15 degrees to get down to 78 during the heat of the day. Sealing air leaks and managing window coverings to block solar heating during the day can help the system work efficiently.
Don's Random Things on the Internet
I took the eight-year-old out to the Flights of our Fathers Air Show and Fly-In in Terrell Saturday, and it was a lot of fun. If you get a chance to stop by the museum there, it is a really neat piece of World War II history right here in our area.
Here is a random fact generator to keep you busy. Especially when you go trying to find out if the facts are, in fact, facts.
For a brief time, you could have purchased a lifetime pass on American Airlines for $250,000. That was a mistake on AA's part.
Finally.. fluffy dog owners might be interested but I'm pretty sure my dog would give this dog dryer a big thumbs down. (You know, if he had thumbs.)