Planned Outage / Voltage Conversion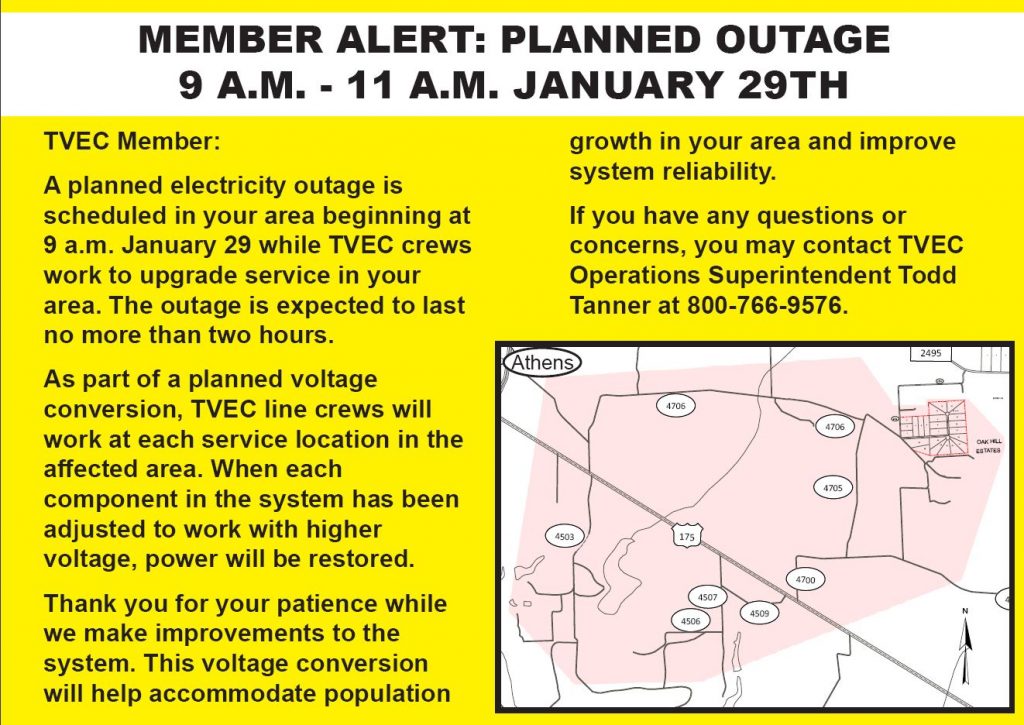 Some members in the Baxter and New York areas will be affected by a planned work outage 9-11 a.m. Wednesday morning, January 29. It is part of a voltage upgrade on lines in that area, which will help accommodate future growth. Members affected by this outage should have already received a postcard like the image above alerting them to the outage.
TVEC crews will need to access electrical transformers and equipment at each service location, meaning you may see TVEC personnel on your property. Please move any obstructions that could delay or prevent access to transformers to help this work go as quickly as possible.
Safety First – The "Outlet Challenge"
It seems obvious, but shorting out electrical sockets is a very bad (and dangerous) idea. Maybe some kids will do anything for a moment of internet fame, so here is one more thing to watch out for and warn the younger folks in your life about.
Speaking of electrical safety, we would love to come out to your school, civic organization, scouting group or 4h-ers to talk electrical safety. We have programs for all ages!
January Board Meeting
The TVEC Board of Directors will meet tomorrow, January 28 at the Kaufman office.
Survey Bill Credit Winners
Thanks again to everyone who participated in our member survey. While we work on survey data entry and results, we are drawing for the winners of the twenty $50 bill credits today. Winners will be notified by our member services department as soon as possible.
Weather Outlook
Groundhog day is approaching, but the "Six More Weeks of Winter" possibility seems odd if winter hasn't ever seemed to start. Not that I'm complaining, of course.
The week ahead looks like more of the same with warmer-than-average days and a few cold nights in the mix. Opening the curtains can help capture some heat from the sun during the day, but don't forget to pull them back closed at night to keep the heat gain inside the house for as long as possible.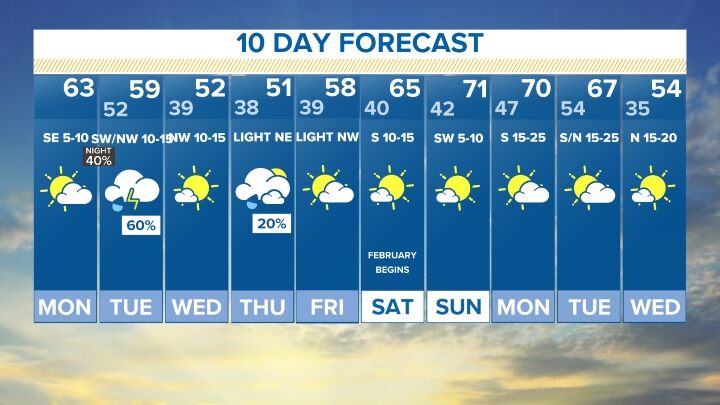 Don's Random Things on the Internet
Stress does make your hair turn gray.
Interesting – The economics of all-you-can-eat buffets.
Flying anywhere this year? The Wall Street Journal ranked airlines' service levels in 2019 (video).
Interesting but not necessarily surprising for procrastinators like me … It's more psychology than time management.
Have a great week, everybody.