PlannedOutage
A planned voltage conversion will have just over 100 members out of power for a short while tomorrow morning, 11/19 as crews work through an area converting transformers to higher voltage operation. This will help accommodate projected growth coming into the area and boost reliability. The area affected is south of Terrell including areas along County Roads 303, 304 and 305 and FM 2578 .. see the map in the image above.
A large group of TVEC line crews will be on hand to make the conversion as quick as possible. Linemen must have access to each of the transformers on the line in order to reconfigure them properly. We expect power to be fully restored by 1 p.m.
Board Meeting 11/19
The TVEC Board of Directors will meet at 1 p.m. Tuesday 11/19 at the TVEC headquarters in Kaufman. The meeting is a week earlier than normal due to the Thanksgiving holiday next week.
Ag/Timber Sales Tax Exemption
If you have an Ag/Timber sales tax exemption, you must renew your exemption by December 31. In addition, the rules specify that the electric service account has to be in the same name as the exemption. This has meant some account changes for some TVEC members. Be sure to give yourself plenty of time and get the paperwork taken care of as soon as possible to ensure your tax exemption stays intact into the new year.
TVEC is Hiring
We are looking for a great addition to our Facilities Maintenance team.
Weather Outlook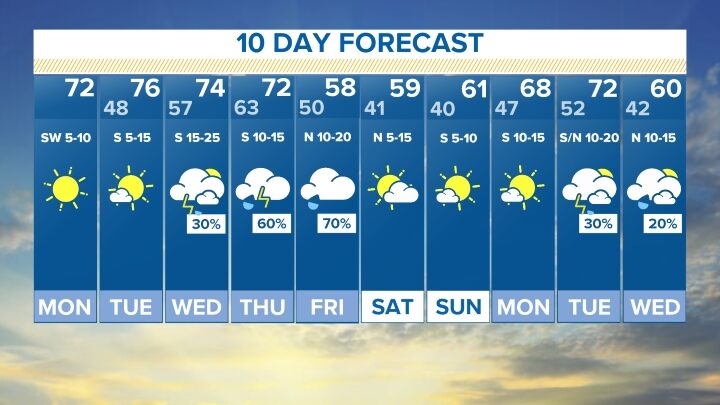 Beautiful fall weather and then slightly cooler with rain later in the week sure looks nicer than the cold blast last week. Remember those low temperatures will certainly affect energy use and upcoming electricity bills. You can monitor every day's electricity use with text and email alerts, or view usage charts through the member portal at TVEC.NET or the myTVEC mobile app.
Don's Random Things on the Internet
Does it seem like you have had more robo-calls and scam calls coming to your phone in recent weeks? Apparently the problem is nationwide and growing. (video)
A step forward for bionic eyes.
As a father of two boys, the cereal aisle always has some new surprises. A few weeks ago it was Dippin' Dots cereal. Now it looks like Twinkies cereal is going to happen.
Speaking of Twinkies… they may last forever but you Wouldn't actually want to eat an old one.
More edible – 12 types of steak explained, examined and cooked. (video)
Have a great week, everybody.