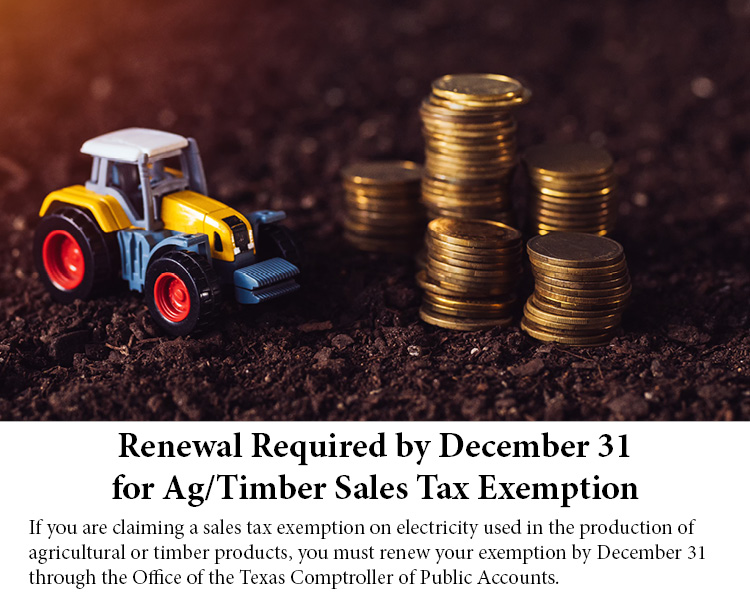 If you are claiming a sales tax exemption on electricity used in the production of agricultural or timber products, you must renew your exemption by December 31 through the Office of the Texas Comptroller of Public Accounts. Otherwise, the co-op will be required to charge sales tax beginning in January. Texas Agriculture and Timber Registration Numbers for Sales Tax Exemptions must be renewed every four years, regardless of when the number was first issued. Only one certificate is required for members with multiple qualifying meters.
How to Renew Exemption Certificates
There are several options for renewing your exemption certificate: online, by phone or by mail.
Online renewal is the fastest, with the applicant receiving a confirmation number immediately. Those applying by phone will receive a confirmation letter by mail in five to seven days. Processing time for renewing by mail could take several weeks.
Those seeking a renewal can visit http://comptroller.texas.gov/taxinfo/agriculture/renewNumber.html for more information. The site also features a list of eligibility requirements.
For more information, contact the comptroller's office at http://comptroller.texas.gov/taxhelp or call 1-800-252-5555.
If you are currently sales tax exempt with TVEC for agricultural or timber purposes, you must supply a new exemption form and registration number to anyone of our four office locations or email it to hootenj@tvec.coop to be tax exempt for any electrical bills after 12/31/2019.  If we do not have the renewal information from you by January 1, we will unfortunately have to remove your exemption status until such time as new documentation is received.  Please note, the exemption documentation you supply must match the name on the electrical account to qualify for an exemption.