Happy New Year, Everybody!
Planned Outage Update
The second of two planned outages will affect a large portion of the TVEC service area tomorrow morning – from north and east of Athens down to Frankston and surrounding areas.
An equipment problem caused this morning's outage to last about 45 minutes instead of the predicted 30. We still anticipate the outage tomorrow to go 30 minutes or less.
Get more info and see a map of the affected area here.
Survey Survey Survey
We want your feedback, and time is running out to be a part of our member survey. Responses are due by January 18 to participate and enter a drawing to win one of twenty $50 bill credits.
Youth Tour Countdown
High school students have until January 17 to get applications in to win one of two spots on the Government-in-Action Youth Tour. It is an amazing opportunity.. just ask previous winners…

Applications and more info here.
Efficiency Resolutions?
Now is the time of year for slimming down … your energy budget. Unlike weight loss and fitness goals, efficiency resolutions are easy to keep on track with. This time of year, brief cold spells and overnight low temperatures can drive up electricity usage, even though days are nice and sunny. Don't forget to close curtains and blinds to help prevent heat loss when temperatures drop. And of course, controlling the thermostat is the biggest savings potential.
Weather Outlook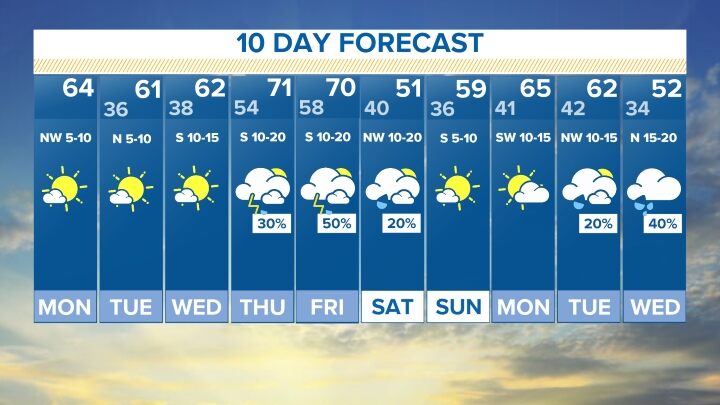 The storm chances Friday evening seem to be increasing as the day goes by, with severe storms very possible. If you haven't already, now is a good time to sign up for outage texting, the simplest way to report a power outage and an alert when power should be back on at your address.
Don's Random Things on the Internet
It is 2020 – and we are as far away from World War II as WWII was from the Civil War. An interesting look at the passage of time
In case you were wondering.. it really is easier for men to lose weight
Still popular after all these years – everything you need to know about the Rubik's Cube
Technology win – an intelligent visor to block the sun just where you need it
Have a great week everybody