Update Jan. 7, 10:15 a.m. Power has been restored. Thank you for your patience, and for sharing the info on these outages.
If your power has not come back on, please report your outage at 800-967-9324.
Transmission Line Changes Will
Require Two Large Temporary Outages
TWO PLANNED TRANSMISSION LINE CHANGES WILL affect a large number of Trinity Valley Electric Cooperative members in early January with a short outage scheduled for 10 a.m. each day January 6 and 7.
Each outage should be no longer than 30 minutes as crews from TVEC, Rayburn Country Electric Cooperative and contractors work together to change the routing of transmission lines that feed TVEC substations in the eastern part of the service territory.
Weather or grid conditions could change the schedule, and members are encouraged to watch for updates on tvec.net and on TVEC's social media channels.
The changes are part of an overall plan to bring all of the TVEC service area into the Electric Reliability Council of Texas power grid, with the goal of increasing system reliability and simplifying system operations.
This area has previously been part of Southwest Power Pool, a power grid operator that serves an area stretching from Arkansas and the Texas Panhandle north to the Canadian
border.
Scheduled dates and times are subject to change. Please check 
tvec.net and TVEC social media channels or contact TVEC Member
Services for updates on these planned outages.
10 a.m. January 6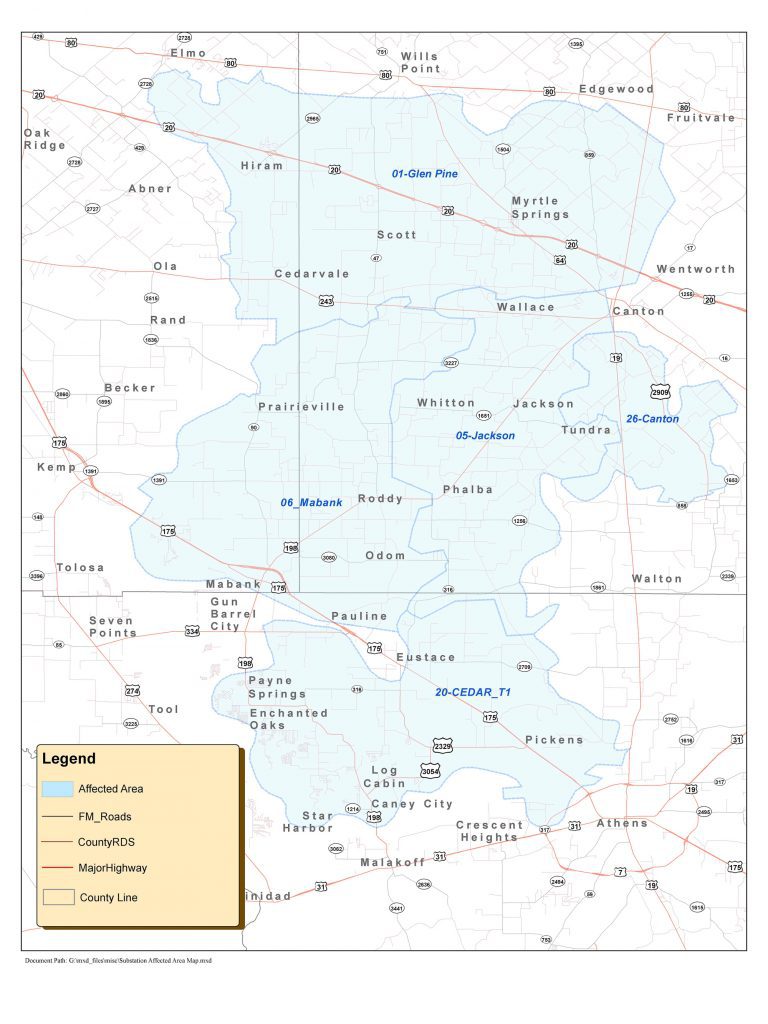 This outage will affect areas northwest of Athens to Mabank, going north to an area along Highway 80 south of Wills Point and including Jackson, Log Cabin, Payne Springs, Prarieville and Whitton.
10 a.m. January 7
This outage will affect areas north and east of Athens, extending to areas around Brownsboro and Frankston and including Berryville, Coffee City, Larue, Murchison, New York and Walton.