It was another record turnout as 792 members and guests gathered for the 2019 Trinity Valley Electric Cooperative Annual Membership Meeting on October 10, nearly filling the Canton Civic Center.
After a light dinner and an opportunity to interact with TVEC employees, get information about TVEC efficiency programs, technology solutions and community outreach efforts, it was time to get down to business.
TVEC General Manager/CEO Jeff Lane began with a discussion of the current wholesale power market and how TVEC manages wholesale power costs.
"Seventy percent of our costs are tied up in the purchase of wholesale power," Lane said. "Prices fluctuate based on many factors including demand on the grid, transmission system congestion, generation availability, the amount of wind blowing , the price of gas and coal, and a number of other variables."
Balancing power contracts through wholesale power provider Rayburn Country Electric Cooperative has resulted in reduction in power costs over the last few years, a change that can be seen in members' bills through the Power Cost Recovery Factor.
"The PCRF is basically the tool we use to manage with the changes in wholesale power costs," Lane said. "In the last 22 month period, January 2018-October 2019, we have had no positive (added) PCRF, and we have had a negative PCRF 12 times, which effectively reduces your rate. Hopefully you see this trend in the wholesale power cost and if you watch that PCRF line item on your bill, you can see when power costs are up or down for us."
Lane said the trend for lower wholesale power costs seem to be holding, with the expectation that TVEC will be able to continue lowering the rate through the PCRF in the future.
Assistant General Manager/COO Tony Watson was next to address the crowd, giving an overview of the co-ops safety and operations programs, as well as efforts to increase reliability and plan for future growth.
"Society is becoming increasingly dependent on highly reliable electric service, so it is imperative that we strive to provide you with the most reliable service possible," Watson said. "Mother nature can throw us some curves, with storms, lightning, ice and tornadoes being a few of the challenges we face."
Watson noted that TVEC is on a six-year rotation for right-of-way clearing, at a cost of about $4.5 million. Trees are one of the leading causes of outages, meaning right-of-way clearing is an important part of electrical reliability efforts.
Trey Rowe of auditing firm Bollinger, Segars, Gilbert and Moss provided attendees a report on the co-op's annual audit, which resulted in a clean, unmodified opinion from the auditors.
"We found the books and records to be in good order," Rowe said, "The cooperative appears to be in good financial condition and no findings to report as a result of the audit."
Election Results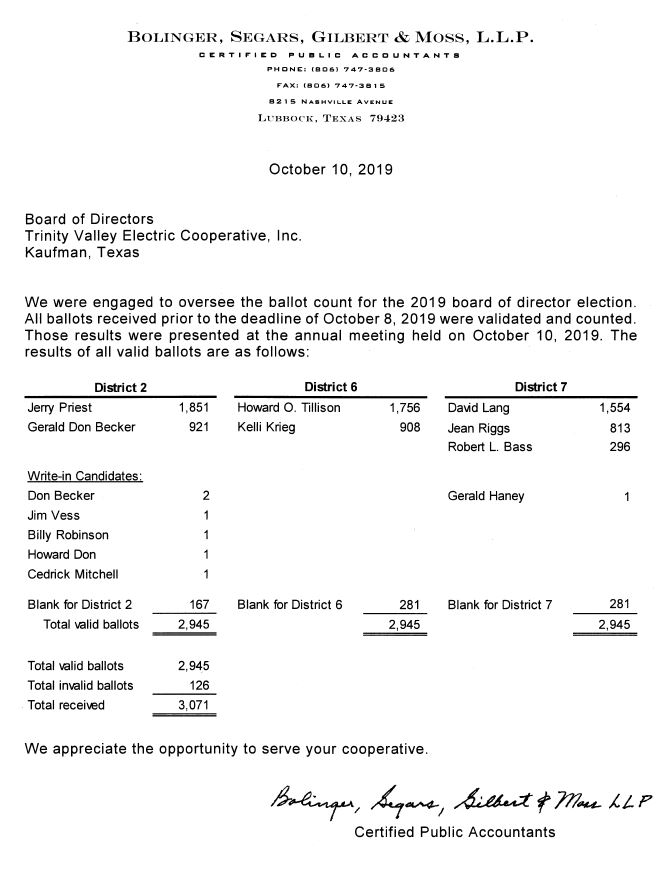 Rowe also provided the results of the 2019 TVEC Board of Directors Election.
A total of 2,945 valid ballots were received, with the following results:
District 2
Jerry Priest, 1,851
Gerald Don Becker, 921
Write-Ins, 6
District 6
Howard O. Tillison, 1,756
Kelli Krieg, 908
District 7
David Lang, 1,554
Jean Riggs, 813
Robert L. Bass, 296
Write-Ins, 1
Additionally, 126 invalid ballots were received. Reasons ballots were invalid included duplicate ballots, missing names or addresses, no signature, ballots marked for all candidates, and completely blank ballots.
"Unlike a lot of co-ops, our annual meeting continues to grow and I am really happy to see that we have active members who take the time to be a part of this," Lane said. "I'd like to thank everyone who came out, as well as the co-op employees who put in a lot of effort to make the event a success. It is great to see some of these members who have been coming year after year, and I look forward to the next one, which we start planning as soon as we get back to the office after this one."
Look for information about next year's meeting in Texas Co-op Power Magazine and on TVEC's social media channels as the year progresses.