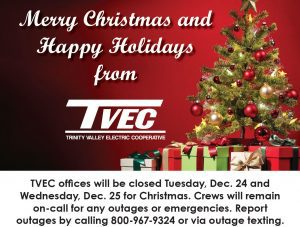 Christmas is finally here, but never fear … TVEC line crews and dispatchers will certainly be on call for any power outages or emergencies (just as every year!).
Planned Outages January 6 and 7
Some major work on transmission lines linking TVEC substations to the power grid will necessitate two large but short power interruptions on January 6 and 7. This will affect many members in the eastern part of the TVEC service area, from south of Wills Point down to ward Athens on Monday Jan. 6 and on the northeast and east sides of Athens on Tuesday Jan. 7. Find maps of the affected areas and more details here.
TVEC is Hiring!
Click on over to the Careers page to find out more about our opening in the Member Services department.
Member Survey
The 2019 TVEC member survey is a great way for you to let us know how we are doing and what you think the co-op should be focused on. And to make it even better, you may win one of twenty $50 bill credits just for participating!
Weather Outlook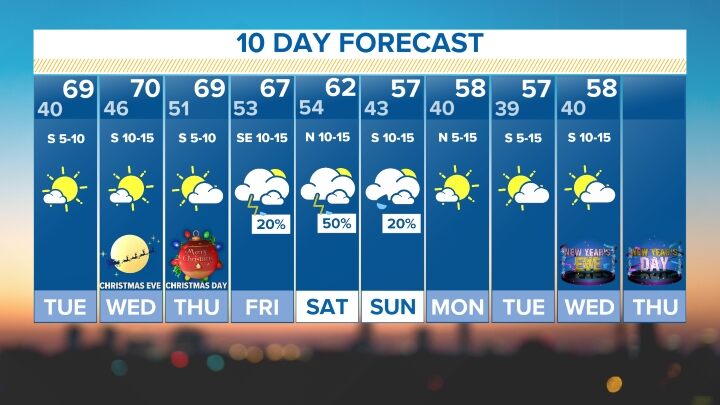 Unless you really wanted some snow for Christmas, the weather outlook is really good for the rest of the year. We have some storm chances on the weekend but temperatures stay pretty nice during the day.
Don't let the nice warm daytime temps fool you though… those overnight lows in the 30s and 40s can add up to a lot of kilowatt-hours on the meter. Keep tabs of daily electricity use with email and text alerts from TVEC. You can set them up in the TVEC member service portal or the myTVEC mobile app.
Don's Random Things on the Internet
Christmas according to kids..
And … 12 fun Christmas facts
In case you want a little more drama in your Christmas music – Jingle Bells in a minor key
Looking for something to watch? 25 Christmas Movies (yes, Die Hard made the list)
Creative Christmas Trees
Because the internet is made for Cat videos … Cats and Christmas trees
Christmas is Dangerous (Video)
From the TVEC family to yours, Have a great Christmas everybody!