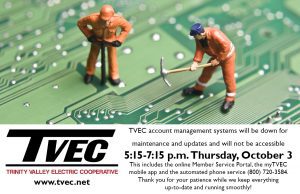 Update: as of 7 p.m. all systems are back up and running.   Thanks again for your patience.
The TVEC IT team will be performing system maintenance and updates beginning at 5:15 p.m. this evening, Oct.3.
This will temporarily affect TVEC member account access until updates are complete. The activity should take less than two hours.
This will affect the TVEC Member Portal through TVEC.NET, the myTVEC mobile app and the automated service phone number 800-720-3584.
We will update this post when the updates are complete and all systems are back online.