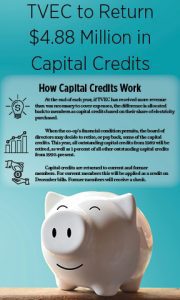 In their regular October meeting, the TVEC Board of Directors approved the retirement of $4.88 million in capital credits. This includes all unretired capital credits from 1990, and two percent of all other unretired capital credits (1991-2017).
Current TVEC members will see their portion of the capital credit disbursement as a credit on December bills.
Former members will receive checks at the address currently on file. For former members, or estates of former members, addresses must be updated by November 27 to avoid delays in receiving capital credit checks.
What are capital credits?
TVEC is a non-profit electric cooperative. That means each year, if there is revenue in excess of the co-op's expenses, the money is allocated to member accounts as patronage capital, based on the amount of electricity purchased.
Members who joined TVEC in 2018 do not yet have any patronage capital.
How much money will I get back?
The amount varies depending on how long you have been a member and how much patronage capital has accrued to your account during those years. For 2018, the disbursement includes all remaining capital credits from 1990, so members who were here in 1990 will likely have higher credit amounts than those who joined more recently.
When will I see the bill credit or check?
Current members will see their capital credit refund on December billing statements. Former members will receive a check in mid-December at the address we have on file. Addresses must be updated by November 27 to avoid delays in check disbursement.