TVEC Annual Meeting celebrates milestone year.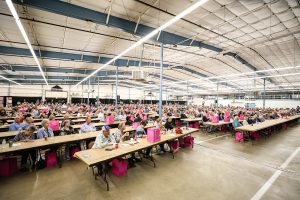 The 2018 Trinity Valley Electric Cooperative Annual Membership Meeting was a birthday party of sorts, celebrating 80 years since the co-op's predecessor, Kaufman County Electric Co-op, was formed and began electrifying the rural parts of our area.
More than 700 attendees filled the Canton Civic Center to enjoy a meal together, learn about all of the things TVEC has going on and hear from co-op leaders.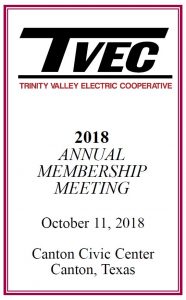 (Click here for the 2018 Annual Meeting Program Booklet)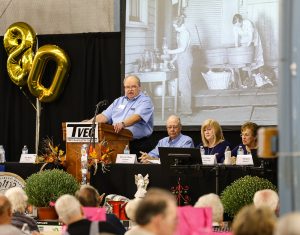 TVEC General Manager/CEO Jerry Boze took a look back at co-op history, noting that rural families saw a tremendous benefit in what we now consider everyday necessities.
"The electric cooperative story is about ordinary people in the 1930s who banded together to improve their quality of life by bringing electric power to their communities when no one else would," Boze said. "The lack of electricity made living in the country hard … and no one suffered more hardship than the woman of the household. Even boiling water was work, because water had to be pumped from a well or brought from a stream and boiled on a wood stove."
Boze also took time to praise co-op employees and board members, who make the TVEC mission statement—safe and reliable power at a competitive price—a reality.
"What makes any organization successful is its people, and I am proud to have the opportunity to work with employees who care deeply about the co-op and the service they provide to you.," he said. "And your board of directors—this group of individuals exhibit leadership, professionalism, knowledge and a solid commitment of always doing what is in the best interest of co-op members."
Boze concluded by announcing that he would retire in January.
"It has been a privilege and an honor to be an employee of your cooperative, I have been blessed for 35 years to work for such a great organization," he said.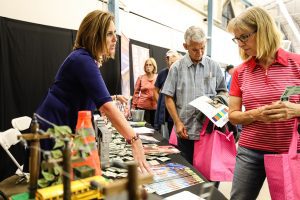 TVEC Chief Communications Officer/Assistant GM Jeff Lane, who will take over General Manager/CEO duties in January, updated meeting attendees about the co-ops various communication efforts, educational outreach and technology solutions.
"We are continuing to increase our Texas Co-op Power magazine content related to local needs and activities, and we continue to use our website, Facebook and social media tools to communicate with you regarding energy efficiency, electrical safety, outage updates and other important information" Lane said. "Just this year, our public relations staff has conducted presentations to more than 5,000 school students, 270 civic organization members and more than 600 children at libraries and day cares."
TVEC Chief Operating Officer Tony Watson gave members a look behind-the-scenes of the co-op, with information about safety initiatives and reliability enhancements that make a big impact on service.
"To have a successful and meaningful safety culture, you must engage and encourage input from all employees, and we do that," Watson said. "It is vital that we promote electric safety to not only employees, but also members and the general public as well."
Trees cause a large percentage of outages, which Watson said is being addressed by an aggressive right-of-way maintenance program.

"We are on a 5-6 year cycle that rotates through to clear all of the rights-of way, and we are comfortable that our current ROW program is working and has been effective," he said. "We cleared approximately 700 miles of distribution lines last year, although about 55% of tree-related outages come from outside the easement.
Trey Rowe of Bolinger, Segars, Gilbert & Moss, LLP presented members with the results of an audit of the co-ops finances.
"Our audit resulted in a clean unmodified opinion," Rowe said. "The books and records are in good order, overall the coop appears to be in good financial condition."
Rowe also presented the results of the director election for district three. The incumbent, Paul Weatherford, was the only candidate nominated and on the ballot.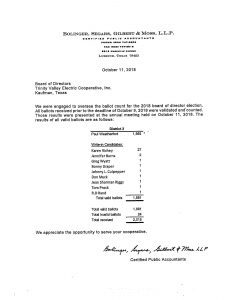 Of 1,991 valid ballots cast, Weatherford received 1,955 votes. Nine write-in candidates received votes, including 27 for Karen Richey, two for Jennifer Burns and one each for Greg Wyatt, Bonny Draper, Johnny L. Culpepper, Don Myzk, Jean Sharman Riggs, Tom Prock and R.D. Rand. (Click the election results image or here to view the election totals)
The meeting concluded with drawings for 140 door prizes, many of which were provided by TVEC vendors.