Lightning last week got a little bit crazy.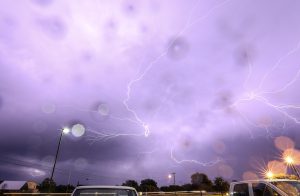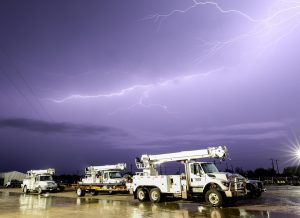 State Legislators Visit
Laws and regulations from Austin and Washington D.C. can have a big impact on utilities. It is always good to have our lawmakers come by for a visit, as was the case this month when Texas State Senator Bob Hall came to the TVEC Kaufman office, and State Representative Keith Bell came in September. Thanks to both for making time to come see us!
Advanced Pole Climbing School
The training field behind TVEC's Kaufman office was busy last week hosting personnel from several Texas co-ops for Texas Electric Cooperatives advanced pole climbing school. Lineworkers must take part in continuous training throughout their careers. Having the ability to learn and train with other co-op personnel is important when our lineworkers go to assist other co-ops (or they come to help us!).
Weather Outlook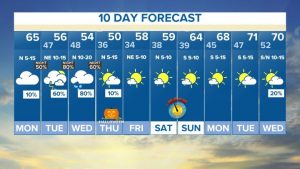 November is going to come with some serious cold weather. I've already been tasked with bringing in the sensitive potted plants from the front porch for Thursday night. Temperatures will head back up after the cold snap to more seasonally appropriate levels.
The variations in weather can make it even more important to manage your thermostat to save energy and stay comfortable. Don't forget that you can keep an eye on daily energy use through the member service portal here on the website, or through the myTVEC mobile app.  You can also set up daily alerts to let you know how much energy you have used, or to get a warning if daily use goes over a pre-set amount of your choosing.
Don's Random Things on the Internet
I only have two kids but I'm taking this parenting skill to heart…
If some of these fashions from the 70's come back, I'm just going to say  no.
Here is some inspiration for those of you who decorate for Halloween using hay bales.
Can you do nothing for two minutes?
Science from your computer – follow some tagged sharks and turtles around the oceans
Have a great week, everybody.