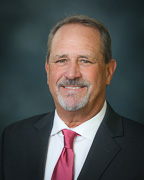 The Trinity Valley Electric Cooperative Board of Directors has appointed Canton native Jeff Priest to fill the District 2 seat left open by the untimely death of longtime board member Jerry Priest.
Jeff Priest has spent most of his life in Van Zandt County, including most of his high school coaching career with long stays in Van and Canton. He retired in 2017 to take over his family's cattle operation and has also been involved in running Jerry's Pizza in Canton.
While co-op involvement runs in the family, Jeff Priest noted that the co-op faces different challenges now than when his father began serving on the board in the 1980s.
"We are going through a stage of extremely fast-paced growth, so that is something that has to be managed very carefully," he said. "Our electrical system is important infrastructure, and you cannot fall behind the growth. We can't build it like roads after everyone moves in—it won't work that way. The key is doing that in a way that still keeps rates down for everyone."
Taking lessons from his coaching experience, Priest said his goals while serving on the board will be focused on looking out for the membership and planning for the future.
"The co-op is a big team with an important role, so you have to be organized, lay out a plan and communicate well," Priest said. "We are all members of a great organization, but I will be accessible and talking to members to make sure we are making decisions with what is best for them in mind."
Priest and his wife, Arija, live near Canton. They have two children and two grandchildren.
The District 2 board seat is scheduled to be on the ballot for the 2022 TVEC board election in September. Results of that election will be announced at the TVEC Annual Membership Meeting October 6 at the Canton Civic Center.