How is everyone doing out there in TVEC land? As the social distancing and isolation continues, I hope you are all finding ways to counter the hard parts with some newfound joys, hobbies or family time.
COVID-19 Resource Page
We have added a few links to the COVID-19 resource page that may be of interest to you. It is a constantly evolving situation, but there are resources out there for individuals and businesses.
A/C Season is Here
With daytime temperatures popping up into the 80s it is certainly air conditioning season. We would normally recommend a professional tune-up before the summer hits, and that is still a good idea. However, since you may be at home already and reluctant to have visitors, here are some things you can do to make sure you are ready for summer.
• Replace the filter to keep everything running smooth.
• Clean around the outside unit and make sure there isn't anything blocking air flow out there.
• Check the condensate drain so that water can flow out from the unit. Sometimes bugs can build nests in there during the off-season and cause water damage with the overflowing drip pan!
• Check the condition of air sealing around window units to block any air leakage.
• Switch your fans to blow downward, which will make the room feel cooler and allow you to bump up the thermostat a few degrees.
• Remember the recommended setting is 78 degrees in the summer. It may seem warm, but with fans and some acclimation it can save you a lot!
Coloring Pages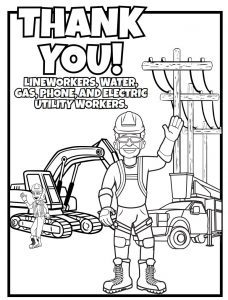 For the kids (and coloring adults!) stuck at home, here are some essential worker coloring pages. If you have a chance to color these, we'd love to see your work so we can share it for our linemen and others to see.
Weather Outlook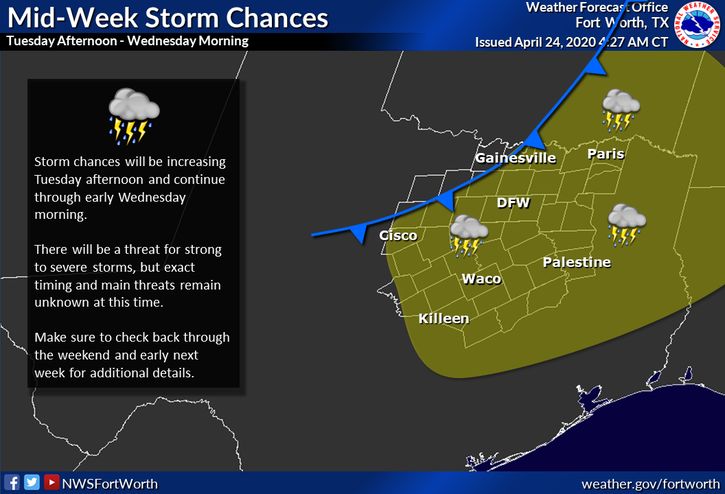 We dodged a bullet earlier this week, with tornadoes popping up in Southeast Texas, Louisiana and Oklahoma. Storms are possible again this afternoon, so keep an eye out for that.
After a warm and beautiful weekend, the next storm chances come in for Tuesday/Wednesday. Stay weather aware and make sure your emergency supplies are ready to go.
Don's Random Things on the Internet
If all the time at home has you playing Monopoly…. here is how to win, from the US Monopoly champ. I had no idea there was a Monopoly champ, but there you go.
An ancient town in Germany built with tons of (tiny) diamonds in the structures.
Speaking of historic structures… digital reconstruction of old castles.
With the reduction in travel I'm sure convenience stores are being hit hard. Here is some history on how gas stations became what they are today.
Have a great weekend everybody.