Please Be Prepared for Extended Outages
Storm Update – 10:30 p.m. Feb. 1 – Several rounds of additional freezing rain have made the outage situation even more widespread, including several outages in Kaufman and Van Zandt counties, which missed most of the damaging precipitation previously.
Crews are working through these new outages, as well as recurring outages as trees continue to fall in Henderson and Van Zandt counties.
Temperatures are expected to begin rising overnight, which ironically will cause some outages as trees rebound to their normal positions. With increased temperatures and more than 250 line crew and tree trimming workers we expect major improvements throughout the day Thursday.
February 1 – 2 p.m. – This morning's ice accumulation in the southern part of the TVEC service area has caused extensive damage, and some power restoration will likely last well into the day Thursday.
Crews are making progress on many of the large outage areas, but the amount of time required to access and clear trees and limbs at each location is slowing overall restoration, and additional freezing rain may fall later today.
Unfortunately we are unable to accurately predict when any single location will have power restored, and some areas may even see additional outages before we get back above freezing.
Please be prepared for extended outage times. We are working with county officials to encourage warming centers for residents who need them. The Texas Department of Emergency Management has a list of warming centers on their
website here.
Mid Day Update: Precipitation continues to fall in much of the TVEC service area. We expect additional effects on our lines throughout this weather event. Outage restoration is taking place in several areas. You can find outage maps and updates on tvec.net
While road conditions are not good, if you find yourself in need of emergency warming, the Texas Department of Emergency Management has warming center information at
https://tdem.texas.gov/warm
9:15 a.m. Jan. 31: Tree crews are working to remove problem limbs and trees that are affecting this circuit. Restoration is not expected before 10 a.m., and could be longer if any additional problems are found.
January 31 Update: It appears we could see significant ice accumulation as precipitation continues today. If this occurs, we could se significant outages as trees lose limbs or bend under the weight of the ice. Our crews and system operators will be working diligently to restore power as quickly as possible, but you should be prepared in case of extended outages.
The northern part of the TVEC service area is already starting to feel the effects of this week's expected winter weather, with slick roads and slight icing this morning.
TVEC's operations team has implemented our storm plan and will be ready to respond as quickly as possible to any outages. Please note that dangerous road conditions can slow response times and lead to longer outages.
The biggest threat will be accumulated ice on trees that can bring down limbs or bend trees into power lines.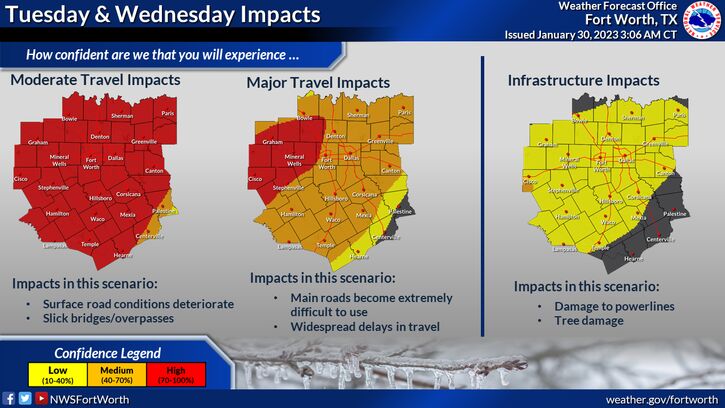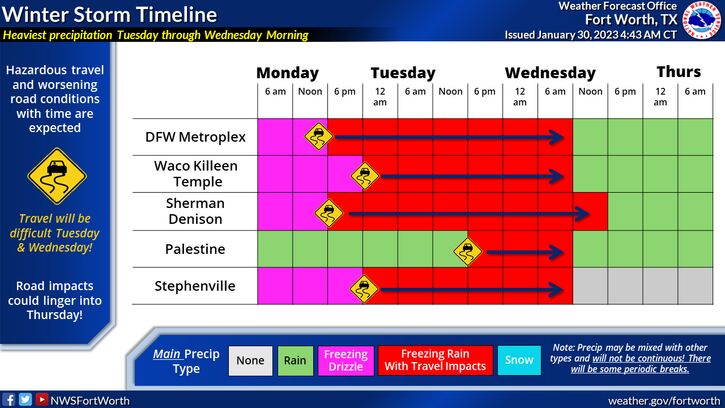 Outage Reporting
Report power outages at 800-967-9324, or through Outage Texting. Click here for more information about outage texting.
Outage restoration progress may be followed here on tvec.net in the outage center. Updates on any large outages will be there as well.
ERCOT Grid Conditions
The Electric Reliability Council of Texas has not issued any notices regarding this weather event. We expect to have plenty of power on the grid, and any weather impacts are expected to be local and short lived. The overall expected temperatures are expected to stay in the upper 20s, and the system is only affecting the northern part of the state.
Move Over/Slow Down
If you must drive during this winter storm event, please remember to move over and slow down for utility crews working near roadways. Our lineworkers and tree trimming contractors will be working diligently to restore power, please give them plenty of room to work safely.
Energy Usage Impacts
As we saw in December, these cold nights and a few very cold days can really drive up energy usage. As your heating systems work to raise your home's temperature by 30 degrees or more, anything you do to improve air sealing and insulation in your home can help in both comfort and energy costs.
• Seal as much as possible around doors and windows
• Utilize window coverings to reduce heat loss
• Water heaters are also working hard with colder water coming into the system. Water heater blankets and can be helpful, as well as reducing usage of hot water when possible.
• Space heater use can be useful for individual rooms, but are very inefficient for large spaces. Also be sure to be mindful of space heater safety. Never use extension cords for space heaters, and keep a clear area around the heater.