Update: 10 p.m. – Rolling outages will be scaled back to 30 minute intervals.
Update: 5 p.m.
Rolling Outages: Timing of rolling outages has been extended to about 45 minutes, hopefully giving more time for heaters to work. However, this is a fluid situation and the timing may change. For the members in longer outages, remember when your power is restored you will likely be in a rolling outage situation after restoration. ERCOT load shedding requirements change often and the TVEC engineering team is working around-the-clock to ensure we provide as much power as possible.
Extended Outages: Some progress has been made on extended outages today. This includes some of the areas connected to Oncor distribution points. In those areas you may see rolling outages, or go back in to an extended outage as Oncor also works to shed load as directed by ERCOT or works to restore power due to damage (see the weather report below).
Weather: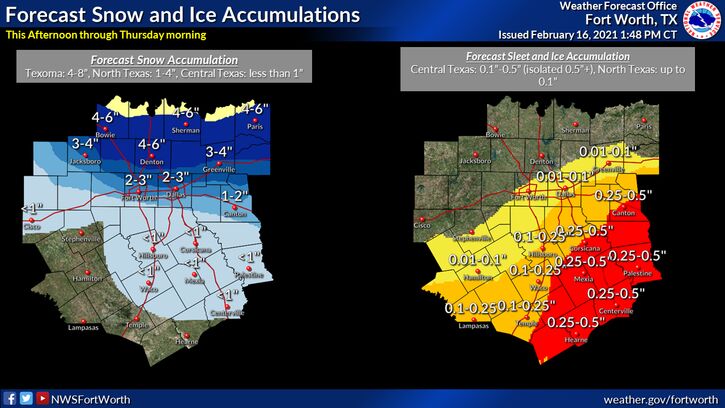 The weather forecast has deteriorated some from earlier today, particularly regarding ice accumulation. That red area stretching southward from about Corsicana to Canton predicts .25″ to .5″ ice buildup. This could cause extensive damage by falling trees and limbs as well as ice buildup on power lines. TVEC line crews will work as quickly as possible in this situation, but travel and access difficulties as well as the weather conditions will likely hamper progress.
Original Post:
Unfortunately there isn't much good news to share. TVEC crews have made progress in some areas, getting many of the members from extended outages into the rolling power availability side of things. Here are some updates for Tuesday morning.
Rolling Outages: The ERCOT grid continues to have insufficient power for the demand, so rolling outages (or, at this point, rolling periods WITH power) will continue. There are some signs of progress but with continued cold weather we expect the situation to last throughout the week. Last night the statewide load-shedding went to a new high of 19,500 megawatts.
ERCOT did share a positive outlook this morning, but no concrete information on capacity going forward.

And – Here is a report from an inteview with ERCOT CEO Bill Magness
Extended Outages: Some members have been without power from near the start of this event on Monday morning. Please be aware that in some areas these extended outages could last into Friday and potentially longer. This is particularly true where TVEC lines interconnect with ONCOR distribution, as their power restoration and load shedding requirements affect our members in those areas. TVEC crews and engineering are working to alleviate some of this problem by back-feeding lines from sources on our lines but some places will likely experience multi-day outages here.
Warming Centers are being prepared in several areas as a place to get out of the cold.
• Henderson County
• Palestine
• Kaufman – First Baptist Church, C-Life Church,
• Forney – C-Life Church
• Murchison School – 9661 E Bankhead st.
• Trinidad – Lakeside Baptist
Upcoming Icy Weather Affects: Another round of winter precipitation will likely cause additional outages!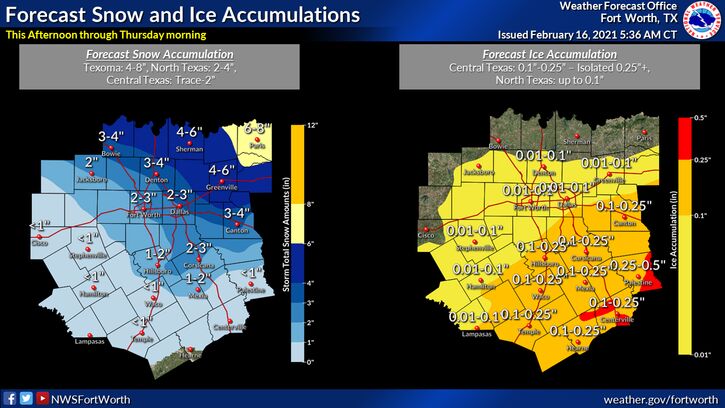 Starting this evening we can see additional freezing precipitation, including freezing rain. This adds particular concern as it can cause trees and limbs to fall into power lines creating extensive damage and long outages. Restoration times for these outages, combined with the complication of the rolling outages, have the potential to make a bad situation worse. Please prepare as best you can for power outages. Freezing precipitation is predicted especially in the southern part of the TVEC service area, and could have similar effects to the January 10-11 event.