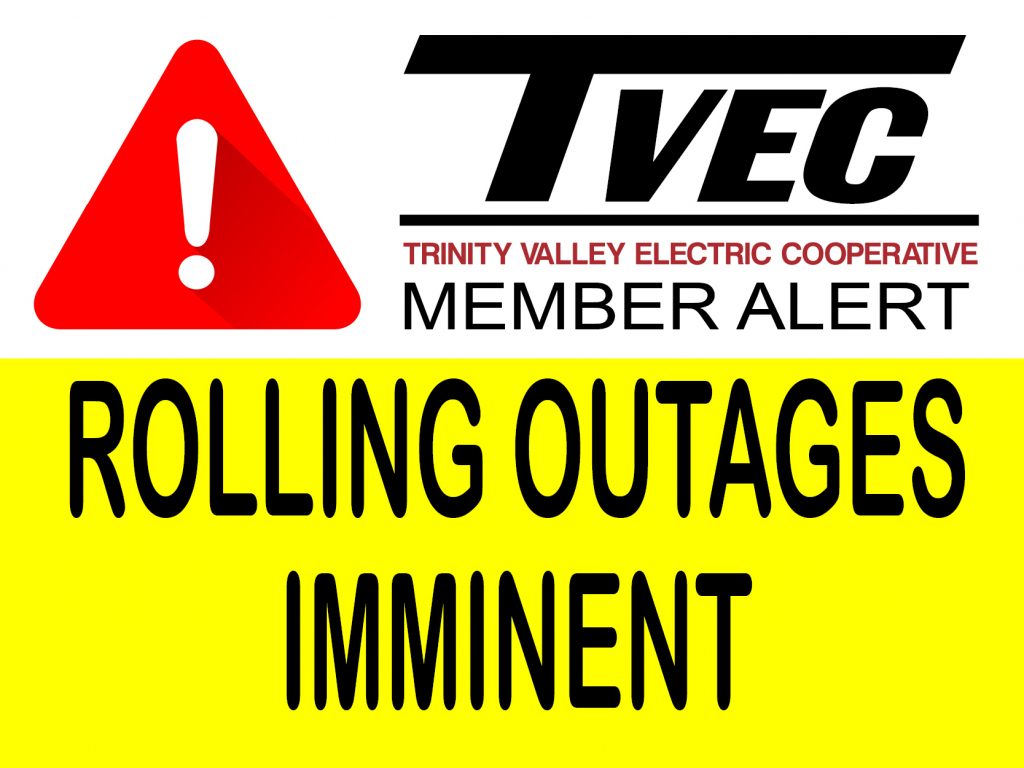 Update 4:00 p.m. – Slow but steady progress is the order of the day as some of the long-term existing outages are brought back online as ERCOT has slightly reduced the amount of electrical load that we must take out. However, adding more back is in part dependent on repair work in the field and the availability of resources form ERCOT. If your power has not be restored, it is best to be prepared for extended time overnight without power. Also, due to grid conditions, we recommend all members have a plan in case of extended outages tonight.
The 30 minute outage rotation has so far been effective.
Unfortunately the TVEC Outage Map has been ineffective in tracking the rapid outage changes, so we have temporarily unlinked it to reduce confusion.
If you are interested, ERCOT held a news conference today discussing the grid situation.
And, here is a short FAQ involving questions about the logistics and process of load reduction rolling outages.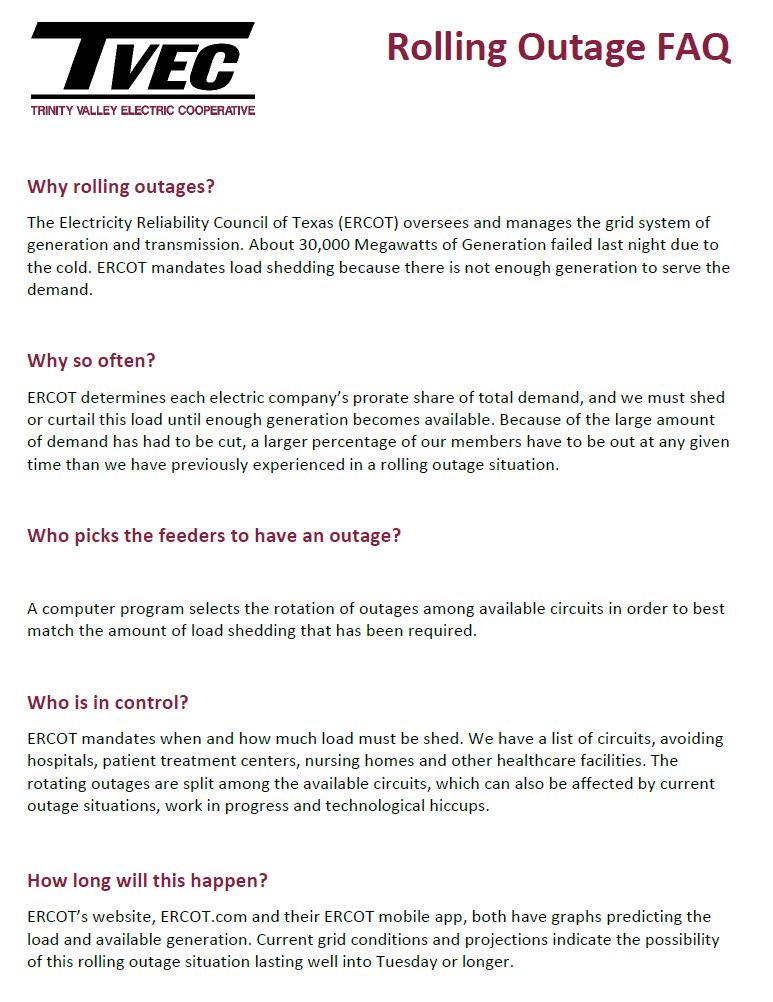 Update 12:30 p.m. – TVEC Operations and Engineering has adjusted rolling outage timing, in hopes of providing longer 'on' times. Outages will now last 30 minutes. During the outage portion of the rolling outage cycle, please turn off any heaters or appliances that may have a large load when the power comes back on. This can help prevent extended outages due to the introduction of immediate high loads when the circuit is turned back on. Once power is established, heaters may be turned back on with less risk of going back out unintentionally for extended times.
Update 8:45 a.m. – ERCOT has continued to raise the total amount of electrical load that must be taken offline, which is now at 16,500 megawatts. This is truly unprecedented and there is no quick solution for getting the grid back to normal operation. It looks like rolling outages will continue well into the day, if not longer.
TVEC Crews are out in force to deal with weather related outages and restoring power to circuits that do not come back on properly after a rolling outage event. Due to the travel conditions, outage restoration is also taking much longer than we would hope. Please know that these crews, as well as additional contractor crews that were standing by for the snowstorm response are working very hard to get these outages on as quickly as possible.
You can follow real-time ERCOT grid conditions at
www.ercot.com
Update 4:45 a.m. – Rolling outages continue, and ERCOT has added additional requirements with TVEC now required to reduce load by 10,000kW at any given time. We do not yet have any timeframe for the end of this rolling outage event.
For members who have extended outages within this event- Crews continue to work where possible to restore power. The process is hampered by the rolling outage process, as well as the winter weather conditions, so the longer outages could go well into the day Monday or longer.
Electrical outages will be implemented in the TVEC service area as required by the Electric Reliability Council of Texas.
Beginning at (TIME) TVEC members may experience outages as a result of load-reduction requirements implemented by ERCOT.
We expect these outages to be about 8-10 minutes in any given area, and the amount of time between outages will vary depending on how much electrical load we are required to go down.
How you can help:
Please note that due to the severe winter weather, restoring outages can take longer than normal. You can help ensure that the power comes back on smoothly by turning off heaters and other appliances until after power is restored. This reduces the effect of "cold load" causing problems when power is restored.