Update: February 1 – Forecasts continue to call for some ice accumulation in the TVEC service territory Wednesday night into Thursday, and sustained below-freezing temperatures and dangerous wind-chill temperatures.
Original Post: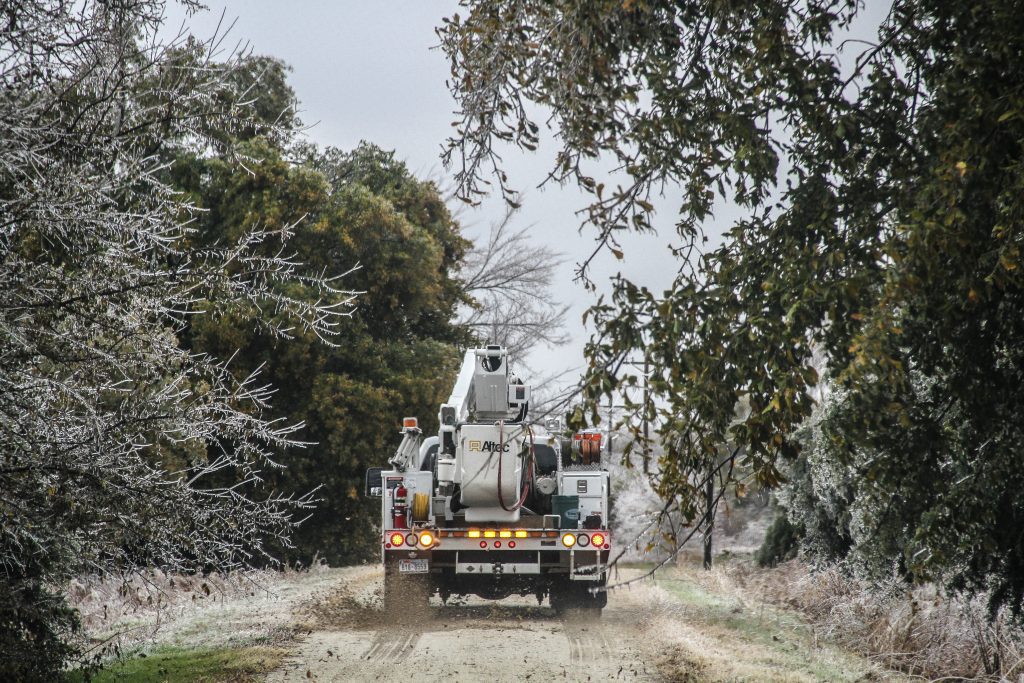 • Very cold weather and potential accumulation of ice could lead to power outages and high electric demand starting Wednesday.
• ERCOT is expecting record winter demand, but currently expects to have enough energy to supply the grid without calls for conservation or rolling outages.
• Freezing rain is expected in the TVEC service area, meaning a significant risk of localized power outages due to falling trees and limbs. Additionally, travel difficulties could extend restoration times.
• Current weather forecasts include freezing temperatures starting Wednesday and lasting until Friday. We encourage members to be prepared in case of power outages, particularly for medical needs.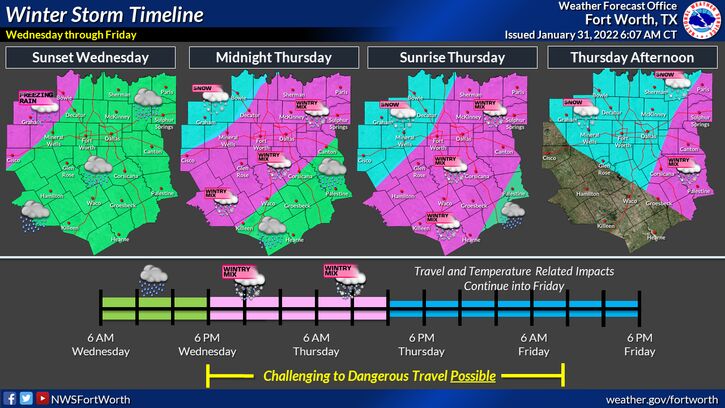 With extreme cold and a wintry mix of precipitation possible, this week is shaping up to be the first real test for all levels of the Texas electric grid since last February's Winter Storm Uri.
The Electric Reliability Council of Texas has so far remained confident that improvements made in the last year, along with a less severe predicted statewide storm impact, will not require conservation efforts or forced rolling outages. We will be monitoring the situation closely, and there are regular communications happening between ERCOT, the Public Utilities Commission of Texas and all levels of grid operators. We will do our best to keep the most current information available with you. Please stay tuned here on TVEC.NET, TVEC social media and, if we have your email address, we will be sending regular TVEC Member Alert emails.
On the operations side, crews will be preparing for getting the job done in the extreme cold, stocking trucks and ensuring that they are ready to restore power as quickly as possible across our service territory. With the high likelihood of freezing precipitation, we can expect an impact from falling tree limbs causing localized outages. You may monitor current outages in the outage center here.
You may also want to get ahead of the game and make sure you are set up for Outage Texting. It is a quick and easy way to report outages and check outage restoration status.
Downed Power Lines: Lines that fall, and trees that are touching lines may still be energized. Please do not attempt to clear limbs or approach downed lines.
Space heaters can also be a hazard. Only operate them according to manufacturer instructions, in a clear space and never power them through extension cords or power strips, which can overheat due to the load and long operating times.
If you have prepared for a power outage with a gas generator, please take proper precautions. Never operate a generator indoors, or even in a garage, which may cause a buildup of carbon monoxide.
Never attach your generator to your home electrical system unless you have installed proper switchgear to prevent your generator's power from reaching the grid. It can create a severe hazard for our lineman who are working to restore power and for members of the public. Find more generator safety tips here.
Bill Impacts
Extreme cold weather can have a tremendous impact on your electric usage as your home heating works to adjust inside temperatures by more than 50 degrees.
Water heating also uses more energy as the water coming into the house is also very cold, and may run more often due to the need to drip faucets for freeze protection.
Monitor your daily usage in the TVEC Member Portal or the myTVEC mobile app. In both the portal and the app you may also set up alerts for daily usage to keep tabs on the impact of the weather.