Update: 11 a.m. –
ERCOT
energy supply is trending upward, and demand is down, reflecting conservation efforts. So far so good, and we will continue to monitor for any indications that rolling outages might be called for.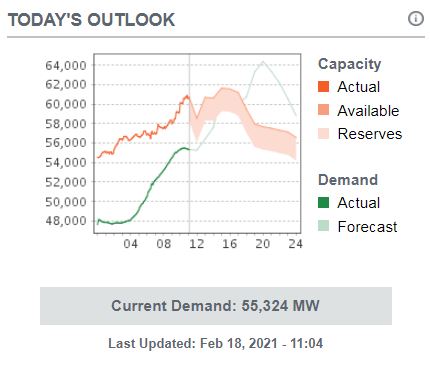 You can see real-time information on statewide energy demand at ercot.com.
Update: 7 a.m. – trend lines on the ERCOT energy outlook graph seem to be following the predicted curves, meaning rolling outages are still a real possibility. Please continue to conserve energy as much as possible by keeping thermostats low, avoiding high energy tasks like clothes dryers and ovens.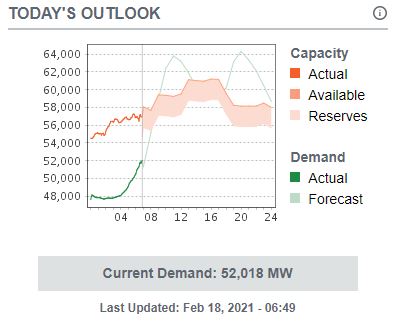 At Midnight, ERCOT notified TVEC and other providers that rolling outages could be stopped, at least for now.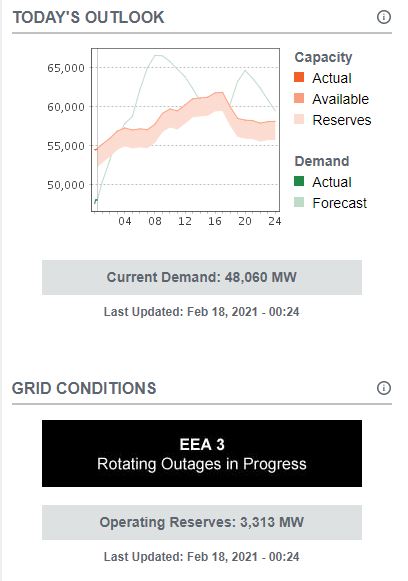 While that news is great, current grid conditions remain very tight, and energy conservation is key to not going back into forced outages during the day as energy demand goes back up. ERCOT has forecasted this, which can be seen on the graph where the green demand line is higher than the red supply line.
Current outages, including extended outages in Anderson County, are the result of other issues. TVEC crews are working to restore power in these locations.