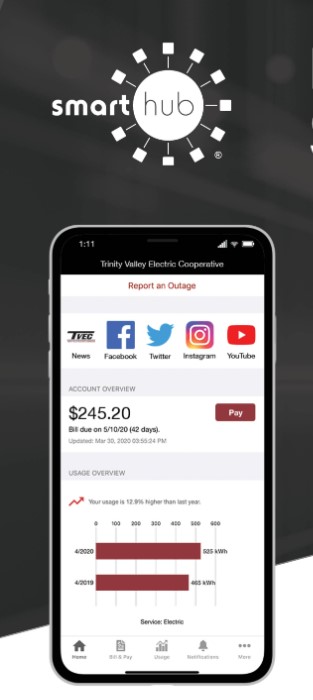 This article appears in the June issue of Texas Co-op Power magazine.
By the end of 2023, Trinity Valley Electric Cooperative members will see a lot of changes as the company converts to a different business and communications software platform.
We expect to ask for your patience as we get up to speed on the new system from National Information Systems Cooperative, but we are excited about the new tools and communication enhancements to improve almost every area of how we serve you.
On the member interaction side, everything you see will be new and improved, including an informative bill redesign, SmartHub mobile app and online portal, and new digital communications options.
Within the company, our workflow and communication improvements between department should lead to better information sharing and efficiency between departments.
In addition to that, and, there is expected to be a significant overall cost savings to the co-op.
Here are a few things to be mindful of as we work through this
conversion:
• Please keep up with TVEC member communications through email, print and social media for important updates about the transition.
• The conversion is expected to be complete by the end of October, with members converting to the new system by November 1.
• All members will be assigned a new member account number.
• TVEC member account systems will be unavailable for one week in August and one week in October. During those weeks we will not be able to process payments. We will work with members to address any concerns with due dates.
Employee training has already begun, and we are looking forward to providing even better service through this technology update. Please pay close attention to TVEC communications over the coming months and we will make this change as painless as possible.