Ed Reeve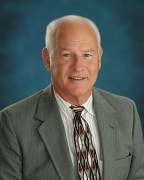 Ed Reeve has been a cooperative member for more than 25 years and on the Board of Trinity Valley Electric Cooperative since 2010. A Eustace area resident, he is a past city council member and mayor pro-tem.
Ed served on the board of Lone Star Credit Union for more than 20 years including a role as vice chairman, has been the finance chair for the First Baptist Church, a volunteer firefighter and president of Lighting Engineers of North Texas.
Ed held several positions in the electric and gas service industry during his 30-year career with TXU.Ed has earned the Director Gold Credential, the highest director certification from the National Rural Electric Cooperative Association. He also has a Bachelor's and Master's degree from the University of North Texas.
"I believe my 30-year work experience with TXU Energy and many years of experience on other co-op boards will continue to bring value to TVEC," Ed said. "Since I was elected to the board, we have been working to improve the operation of our co-op and helping to keep our electric costs as low as possible."
Ed has two sons and four grandchildren.
District 5 Director
Year Elected: 2010
Last Election: 2020
Next Election: 2023
Committees: Governance, Audit