Jo Ann Hanstrom, Board Secretary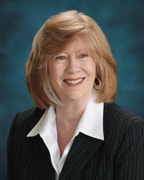 Jo Ann Hanstrom has lived in Tool for more than 25 years since moving to the area from Dallas.
Jo Ann was elected to the TVEC Board of Directors in 2008 and is currently secretary of the board. She has earned the Director Gold Credential, the highest director certification from the National Rural Electric Cooperative Association.
Jo Ann has been president of the Cedar Creek Lake (CCL) Area Chamber of Commerce since 2001, with a year of volunteer service before that. "I think leading the CCL Chamber has given me what I consider a unique perspective on membership organizations and making decisions that I hope are always for the greater good of our members and employees," Jo Ann said. "Electric cooperatives are part of the fabric of America, and I have great respect for the cooperative principles that we adhere to."
Prior to 2001, Jo Ann worked in various industries including oil & gas, automotive aftermarket, and as the Director of Visitor Development for the Irving, Texas Convention and Visitor's Bureau.
Jo Ann has also served on boards including the Mabank ISD Education Foundation, the Cain Center and the Central East Texas BBB.
Jo Ann and her husband, Bill, were honored with the Jean Nichols Lifetime Service Award for involvement and volunteerism in the Cedar Creek Lake community. She is married, with two sons and two grandchildren.
District 4 Director
Year Elected: 2008
Last Election: 2020
Next Election: 2023
Committees: Executive, Governance, Audit