Paul Weatherford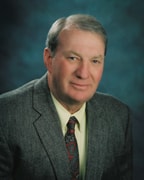 Paul Weatherford is a lifelong resident of Van Zandt County. He has been self-employed since 1968, operating a dairy farm, ranching operation, a custom fertilizer business as well as owning a trucking company for over 20 years.
"I've had the privilege of working with other co-ops, feed co-ops, dairy co-ops, and Agriland and they have always seemed to support their members ", said Paul.
As an existing director, Paul knows how the co-op operates. He said, "I consider myself as an honest, caring person - willing to work closely with others - try to make clear sensible decisions that benefit the member-owners I serve.
Paul has earned the Credentialed Cooperative Director certification from the National Rural Electric Cooperative Association.
He and his wife Linda attend the China Grove Baptist Church in their community.
District 3 Director
Year Elected:1987
Last Election: 2021
Next Election: 2024
Committees: Compensation