Jeff Priest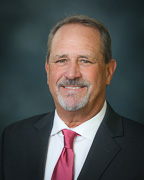 Jeff Priest was raised in Van Zandt County and attended Canton schools before attending Texas Christian University and East Texas State University. He pursued a baseball coaching career that included long stints at Van and Canton high schools.
After retiring for coaching in 2017, Priest took the reins of his family's cattle operation in western Van Zandt County. He also serves on the board of the Cana Cemetery Association where he has volunteered for 18 years.
Priest and his wife Arija were married in 1993 and they have two children and two grandchildren.
District 2 Director
Appointed to Fill Term: 2022
Last Election: 2022
Next Election: 2025
Committees: Compensation