Carolyn Minor, Vice Chairwoman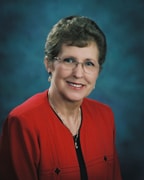 Carolyn Minor is a resident of Wills Point and has been a Co-op member for more than 35 years. After retiring from the United States Postal Service in 1992, Carolyn looked for ways to give back to her community, leading to volunteering for the American Cancer Society, Van Zandt County Extension Education, supporting East Texas Hospice and leading her local Neighborhood Crime Watch.
Carolyn was elected to the Kaufman County Electric Cooperative Board of Directors in 1995, and in her first term was tasked with helping to lead the consolidation of KCEC and New Era Electric Cooperative in 1997.
"It was a challenge, but it was really the best thing for everyone involved," Carolyn said. "This was especially true for the co-op membership, which is always our number one priority."
Carolyn has earned the Director Gold Credential, the highest director certification from the National Rural Electric Cooperative Association. She has served as treasurer and acting chairwoman of the board, and currently serves as vice chairwoman.
"I consider it a privilege to serve as a TVEC board member with the knowledge that I have obtained over the last 24 years," Carolyn said. "This is an industry that changes constantly, so it is a constant effort to stay educated and up-to-date."
Carolyn is a widowed mother of five children, with 12 grandchildren and eight great-grandchildren.
District 1 Director
Year Elected: 1995
Last Election: 2020
Next Election: 2023
Committees: Executive, Governance