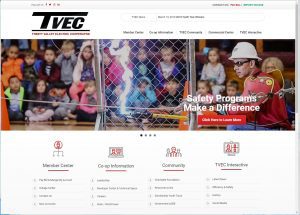 With more than 15,000 visitors each month, TVEC.NET is a key hub for Trinity Valley Electric Cooperative members, new area residents, developers, builders and others looking for co-op information.
The site has recently had a major face lift, making it easier to navigate and adding some new features. "Our website is an important part of how TVEC members interact with the co-op, and a source of information for builders, developers and members of the community," said Jeff Lane, TVEC Assistant General Manager/Chief Communications Officer. "Our first priority was to make the website as easy to navigate as possible, while adding some features that members will find helpful."
The new look includes integration of TVEC social media channels and improved news and information sections. Other updates include a new Outage Center and a News section for regular Co-op information updates.
This site is also designed to be much more usable on mobile devices. Responsive design allows the site to automatically adjust to any device, making the site more user-friendly for phones, tablets, wide screens and older computers as well.
Tell us what you think about the new site by email at communications@tvec.coop.