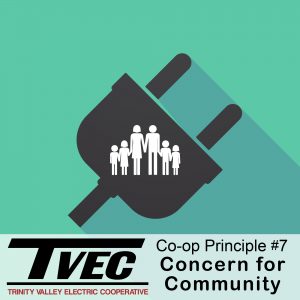 With the ongoing effects of  business shutdowns and government stay-at-home requirements, the Trinity Valley Electric Cooperative Board of Directors again approved Operation Round Up™ funding grants to assist TVEC members.
At their regular April TVEC Charitable Foundation board meeting, board members approved an additional $5,000 in grants to organizations that offer utility bill payment assistance, and $10,000 in donations to area food banks.
"We are continuing to monitor and respond to this pandemic. As the crisis continues, these grants will assist TVEC members and the communities we serve," said TVEC General Manager/CEO Jeff Lane. "The TVEC Board of Directors has been very proactive in doing what they can to assist our members and communities. This kind of direct support is just one of the more visible things, but there is a lot of work going on to ensure that the co-op continues to meet the needs of our members going forward."
These grants follow $15,000 in bill payment assistance grants that were disbursed in March, for a total of $30,000 in direct assistance for TVEC-area charities related to the Coronavirus/COVID-19 pandemic.
The TVEC Charitable Foundation is funded entirely by TVEC members who participate in the Operation Round Up™ program, rounding each month's electricity bill to the next dollar. Since 2013 the effort has generated more than $2 million in grants to charitable organizations that operate in the TVEC service area.
For more information about the TVEC Charitable Foundation and for a list of area bill payment assistance organizations, visit tvec.net.