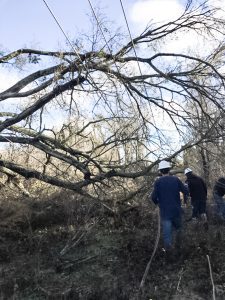 11:20 a.m. – This outage has been restored. If your power has not come back on, please report your outage at 800-967-9324.
10:40 a.m. –  As you can see it is quite a large tree causing this outage. Sometimes a storm's effects aren't seen until well after the storm has left the area.
Crews hope to have the tree removed, lines repaired and power restored by 11:15.
9:00 a.m. –  Crews found where a tree fell into the lines, taking down several spans of wire into a creek. No time estimate yet for restoration, but additional crews are headed to the area to assist with removing the tree and get power restored as quickly as possible.
8:20 a.m. – TVEC crews are responding to a large outage affecting more than 1,100 members in the Baxter and New York areas, and south of Hwy. 175 southeast of Athens.
Updates regarding restoration or cause will be made as edits to this post as information becomes available.