10:30 a.m. May 14: ERCOT has updated market participants with some more information this morning, including the following…
Five of the six generation facilities that went offline unexpectedly on Friday are back on, and sufficient power is expected to be available this weekend.
As we reach the end of seasonal maintenance periods, some generation that will be available in the heat of summer is currently not available, meaning the situation still calls for Texans to conserve if possible and be alert for any changes.
This type of call for conservation is part of ERCOTs modified approach to communications, by alerting the public to the energy more quickly in the case of potential grid issues, and more often during such events.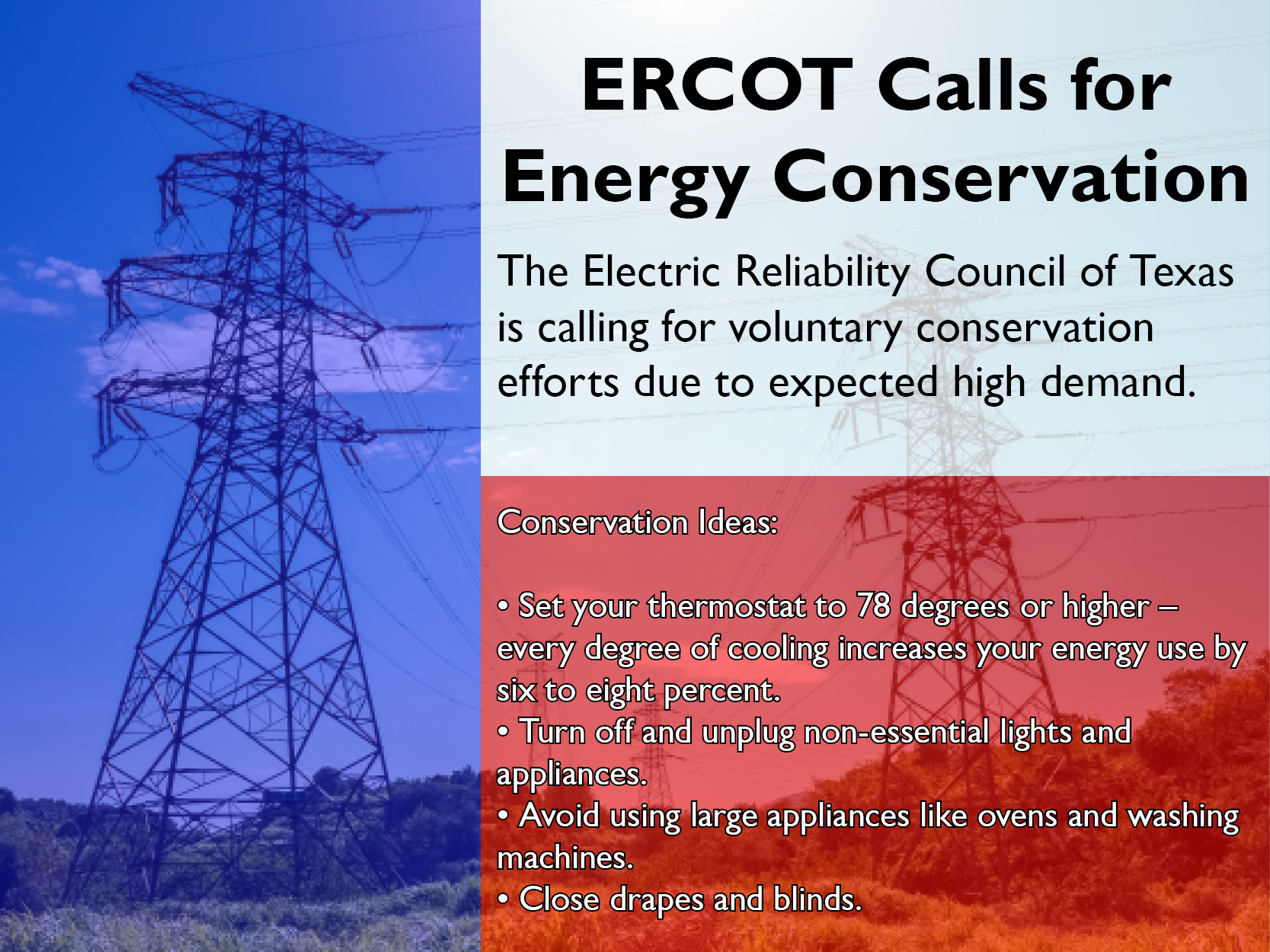 The Electric Reliability Council of Texas has called for energy conservation efforts as unseasonably high temperatures bring an expectation of potentially record electricity demand to match, along with some unexpected generation capacity losses today.
TVEC Members are encouraged to assist in reducing demand during the 3 p.m. – 8 p.m. peak demand period this weekend.
Find more in the full ERCOT statement here: https://www.ercot.com/news/release?id=8b772e9e-51d0-4c3c-e653-1e5079f28e89
AUSTIN, TX, May 13, 2022 – With unseasonably hot weather driving record demand across Texas, ERCOT continues to work closely with the power industry to make sure Texans have the power they need. This afternoon, six power generation facilities tripped offline resulting in the loss of approximately 2,900 MW of electricity. At this time, all reserve generation resources available are operating. We're asking Texans to conserve power when they can by setting their thermostats to 78-degrees or above and avoiding the usage of large appliances (such as dishwashers, washers and dryers) during peak hours between 3pm and 8pm through the weekend.
We will be watching for any other information from ERCOT as this call for energy conservation goes through the weekend. Any updates will be added as edits to this post and on social media.