Update: as of 8 a.m. all TVEC account management systems are up and running. Thank you for your patience as we keep everything up to date and secure.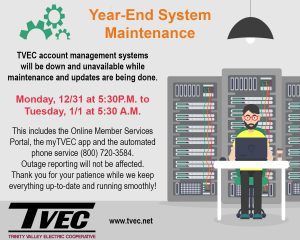 We are putting the wraps on 2018, and that means letting the IT gurus wrap up all of the important end-of-year tasks on the computer and network systems.
All TVEC account management systems will be unavailable from 5:30 p.m. today, Dec. 31, until 5:30 a.m. January 1.
This includes the Member Portal at TVEC.NET, the myTVEC mobile app and the automated phone service line (800) 720-3584.
Outage reporting will not be affected. Please report any outages at 800-967-9324 or by outage texting.